Before you download, you need to set up some accounts and install some software. While it is possible to take these steps at the point of download, unless you want to download just a small portion of a book, the process is rather involved. We we advise doing it in advance.

1. Create an ebrary account. From your work computer, go to http://site.ebrary.com/lib/akstatelibrary/home.action, select "Sign-In" in the upper left corner of the screen, then select "Create Account" and follow the remaining instructions.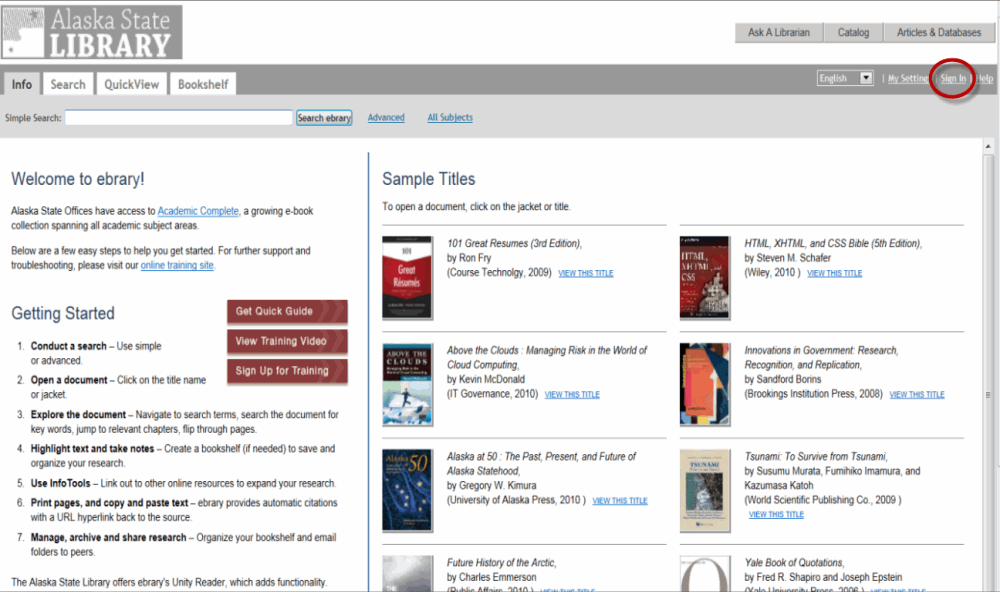 If you just want to download 60 pages or less in pdf format, you are done. For this, all you need to do is create an ebrary account. Otherwise, read on.
2. Create an Adobe Account. At https://www.adobe.com/cfusion/membership, select "Create an account" and follow the instructions. Do this before you install Adobe Digital Editions, so that you can easily "authorize" your computer with your Adobe account during download.
3. Install Adobe Digital Editions on the computer you plan to use to either read your ebooks or transfer them to a portable device
At

http://www.adobe.com/products/digital-editions.html, select "Download."

Follow the instructions on the screen.

When the installation is complete, select "Close" to launch Adobe Digital Editions.

You'll be asked to authorize your computer with your Adobe ID. Do it. This will allow you to transfer books you download between two computers (like your work computer and home computer). If you did not authorize your computer with your Adobe ID during installation, do it afterwards by selecting "Library" in Adobe Digital Editions.
4. If you plan on using a tablet, smartphone, and some ebook readers to read your ebooks, install an app. What app you need depends on the device you have. My testing with Bluefire Reader has been quite successful, so you might start with that.